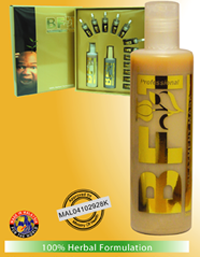 Professional Hair Growth Treatment
Treatment Hair Mask
Removes oil from pores | 消除毛孔油脂
180g  | Come With Treatment Set
Stressful lifestyle, tension and insomnia may cause the imbalance of hormonal secretion, thus resulting in excessive hair grease secretion ceasing the hair growth process. Treatment Hair  Mask is able to penetrate the scalp, remove oil build-ups and withered stratum corneum, enabling the hair root and scalp to breath freely and absorb the nutrients in a normal way.
* Removes oil from pores.
* Removes excessive stratum corneum.
* Stimulate hair roots and encourage hair growth.
* Removes scalp dermatitis.
* Deeply cleanses the scalp.
日常的压力,ç"Ÿæ´»ç´§å¼ åŠå¤±çœ éƒ½ä¼šé€ æˆè·å°"è'™åˆ†æ³Œå¤±è°ƒè€Œå¯¼è‡´å¤´çš®æ²¹è"'分泌过量而使毛å'æ— æ³•ç"Ÿé•¿. Treatment Hair  Mask 能深入头皮清除累积的油脂,清除硬化干枯的角质层,使å'æ ¹å'Œå¤´çš®éƒ½èƒ½æ­£å¸¸å'¼å¸åŠå¸å–营养.
*消除毛孔油脂.
*清除多余角质层.
*刺激å'æ ¹ç"Ÿé•¿.
*清除头皮丁疮.
*深入清洁头皮.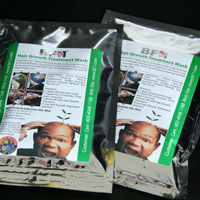 Treatment Hair Mask Pack

Removes oil from pores | 消除毛孔油脂
50g X 1 pack | RM88.00 (USD$28.16)
50g  X 5 packs | RM388.00 (USD$124.16)
Per Pack of Treatment Hair Mask is use for one time treatment only.
——————————————————————————-

Function Of Treatment Hair Mask
1. Application of Treatment Hair Mask may cleanse the pores and sebum.
2. Use the steamer to enlarge the pores and flush out the excessive sweat and grease from the scalp.
3. After use, the cleansed scalp and pores are ready to absorb nutrients from the Treatment Hair Ampules.
Treatment Hair Mask的治疗功能
1。应用 Treatment Hair Mask 可净化毛孔和性头皮油脂。
2。用蒸汽机扩大头皮毛孔,使汗水和头皮油脂排泄。
3。清洗头皮后,毛孔更容易吸收 Treatment Hair Ampules 的营养治疗。
Direction Of Use :
Step 1 : Shake well and pour the Treatment Hair Mask onto the scalp.
Step 2 : Then use cling film to wrap your head, and steam the scalp for 10 minutes in a steamer.
Step 3 : Leave for 5 minutes then rinse thoroughly.
使用方法:
使用步骤1 :  将 Treatment Hair Mask 摇均之后倒在头皮上.
使用步骤2 :  然后用保鲜纸把头包起,用蒸发机开温蒸头皮10分钟.
使用步骤3 :  5分钟后用清洗.

Ingredients 成份
Radix Ginseng – Helps to activated cells and extend cell life to speed up hair growth process.
野人参 – 能活化细胞,延长细胞寿å'½åŠåŠ 速头å'ç"Ÿé•¿ã€'
Panax Ginseng – Helps to improve blood circulation, strengthen the cells absorptive capacity to promote hair growth.
生晒参 – 活血,åŠ å¼ºç»†èƒžçš"吸æ"¶èƒ½åŠ›,促进生发.
Radix Aconitum Carmichaeli – to induce new hair growth and promote more black and thicker hair.
川乌 – 促使新发的生长,让头发更乌黑浓密。
Syzygium Arimaticum – inhibit the growth of bacteria, disinfecting and healing the wounds for scalp area.
丁香 – 抑制细菌滋生,消毒排浓并愈合头皮伤口
Angelica Sinensis – Helps blood circulation, stimulate hair roots , promote hair growth and the provision of hair growth nutrients.
当归 – 促进血液循环及提供ç"Ÿå'çš"è¥å…»ç´ .
Peppermint – Helps to strengthen the scalp absorptive capacity of  nutrition, stop itchiness and anti dandruff.
薄荷 – åŠ å¼ºå¤´çš®å¯¹è¥å…»çš"吸æ"¶èƒ½åŠ›,可止痒及预防头皮屑的滋生.