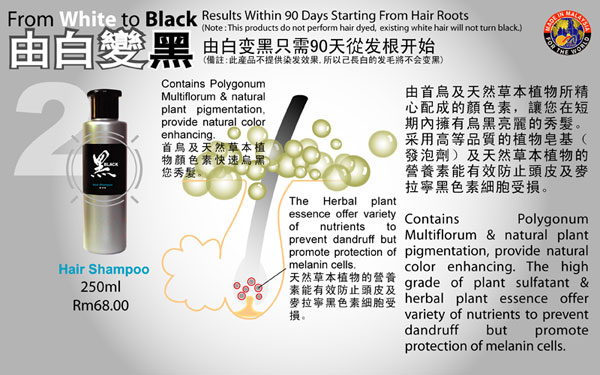 Black Hair Shampoo
250ml | RM68.00 | USD$21.76
Contains Polygonum Multiflorum & natural plant pigmentation, provide natural color enhancing. The high grade of plant surfactant & herbal plant essence offer variety of nutrients to prevent dandruff but promote protection of melanin cells.
ç"±é¦–烏及天ç"¶è‰æœ¬æ¤ç‰©æ‰€ç²¾å¿ƒé…æˆçš"é¡è‰²ç´ ï¼Œè®"æ'¨åœ¨çŸ­æœŸå…§æ"æœ‰çƒé»'亮麗çš"秀髮ã€'采ç"¨é«˜ç­‰å"è³ªçš"植物çš'基(發泡åŠ')及天ç"¶è‰æœ¬æ¤ç‰©çš"ç‡Ÿé¤Šç´ èƒ½æœ‰æ•ˆé˜²æ­¢é ­çš®åŠéº¥æ‹‰å¯§é»'è‰²ç´ ç´°èƒžå—æã€'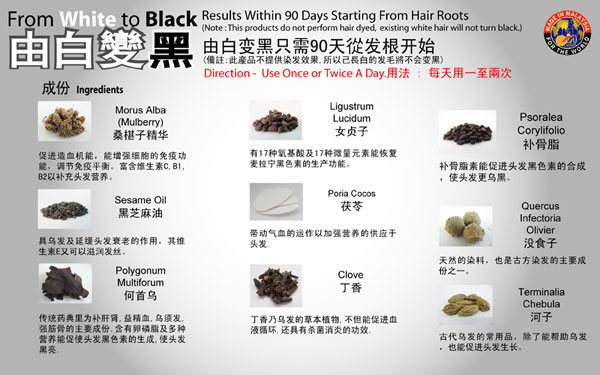 Ingredients : Morus Alba Extract, Rhus Glabra Extract, Polygonum Multiforum Extract, Sesamun Indicum Extract, Eugina Caryophyllata Extract, Cocoamidopropyl Betaine, Sodium Methyl Cocoyl Taurate, DMDM Hydatoin, Fragrance, Distilled Water.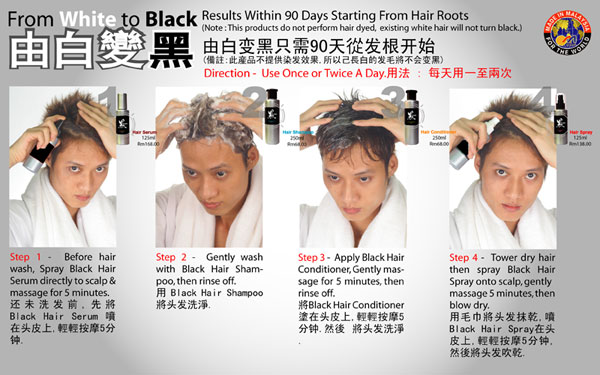 Direction -  Use Once or Twice A Day.  用法 : 每天用一至兩次
Step 2 – Gently wash with Black Hair Shampoo, then rinse off.
用 Black Hair Shampoo 將头发洗淨.