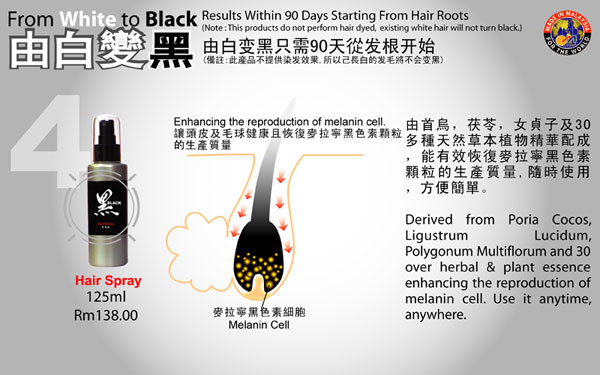 Black Hair Spray
250ml | RM138.00 | USD$44.16
Derived from Poria Cocos, Ligustrum Lucidum, Polygonum Multiflorum and 30 over herbal & plant essence enhancing the reproduction of melanin cell. Use it anytime, anywhere.
由首烏,茯苓,女貞子及30多種天ç"¶è‰æœ¬æ¤ç‰©ç²¾è¯é…æˆï¼Œèƒ½æœ‰æ•ˆæ¢å¾©éº¥æ‹‰å¯§é»'è‰²ç´ é¡†ç²'çš"ç"Ÿç"¢è³ªé‡,隨時使用,方便簡單。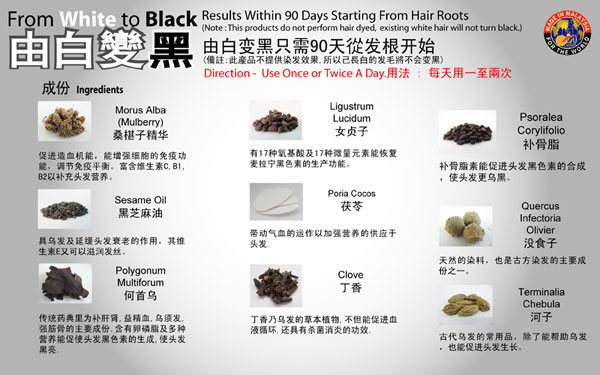 Ingredients : Morus Alba Extract, Rhus Glabra Extract, Polygonum Multiforum Extract, Sesamun Indicum Extract, Eugina Caryophyllata Extract, Distilled Water.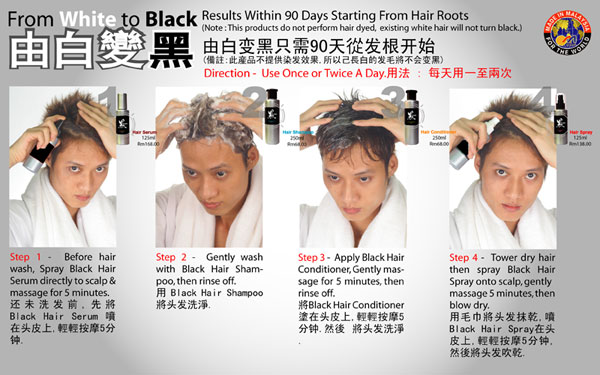 Direction – Use Once or Twice A Day. 用法 : 每天用一至兩次
Step 4 – Tower dry hair then spray Black Hair Spray onto scalp, gently massage 5 minutes, then blow dry.
用毛巾將头发抹乾,噴Black Hair Spray在头皮上,輕輕按摩5分钟,然後將头发吹乾.