Hair Growth Tonic Spray 125ml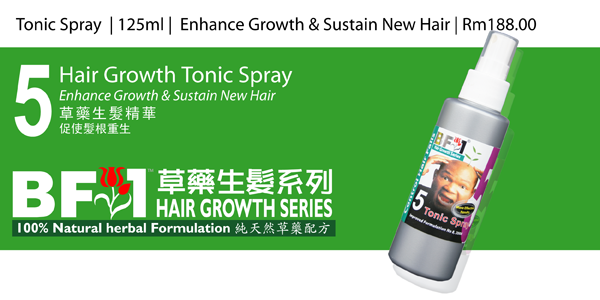 Hair Growth Tonic Spray Trial Pack 60ml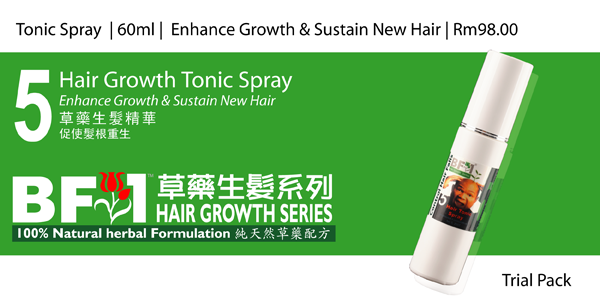 Hair Growth Tonic Spray
Enhance Growth & Sustain New Hair
Natural herbal ingredients: concentrated extract of Ginseng. Tongkui and more than 30 types of other herbal extracts to enhance growth and sustenance of new hair and prevention of dandruff and hair follicle inflammation.
草藥生髮精華  – ä¿ƒä½¿é«®æ ¹é‡ç"Ÿ
純天然草藥配方,濃縮了人參,當歸,首烏,ä¸é¦™åŠå¤šç¨®çè²´è‰è—¥ç²¾è¯ä¿ƒä½¿é«®æ ¹é‡ç"Ÿ,使è"†å¼±çš"ç´°é«®æ›´å …éŸŒ,并能æ"¹å–"é ­çš®å±'åŠé ­çš®ä¸è'¼.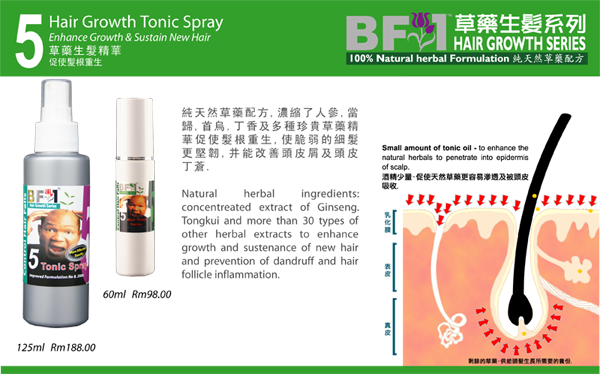 Control Hair Loss & Promoting Hair Growth
Hair Growth Series solved over 90% of all types  hair loss problems. Recovery and results are confirmed faster, safer & effective compare to others existing branding in all world market.We provide products guarantee, service & professional consult to make sure good products can speak by itself.
Many of us thought that after we suffered hair losses, we will become bald headed and the hair will not grow again. Although hair losses happened, but the roots of the hair are still alive, therefore the roots of those bald headed people are still alive. A dead man's s hairs are still growing temporary. So, man who are alive means the root of their hairs are still alive.
Note : For those who have hair loss caused by long term medication, hormone imbalance, Insomnia and physical sickness, our products can control hair loss but not cause hair growth.
控制脫髮并促使生髮
有很多人都認ç'ºä¸€æ—¦é ­é«®æŽ‰äº†ä»¥åŽå°±è®Šç¦¿é ­ä¸èƒ½å†ç"Ÿ.äº‹å¯¦ä¸Šé ­é«®æ˜¯æŽ‰äº†,ä½†é«®æ ¹å¹¶æ²'死去,å³ä½¿ç¦¿é ­çš"äººé«®æ ¹ä¾ç"¶æ˜¯æ´»çš".就算生命到終結的時候,毛髮仍然得以暫時生長.所以在活著的人体上,é«®æ ¹æ˜¯ä»ç"¶ç"Ÿå­˜çš".
注意:本產品對于長期服用藥物,荷爾蒙失調,é•·æœŸå¤±çœ åŠèº«é«"疾病çš"åŽŸå› è€Œå¼•èµ·è"«é«®,只能控制脫髮而不能生髮.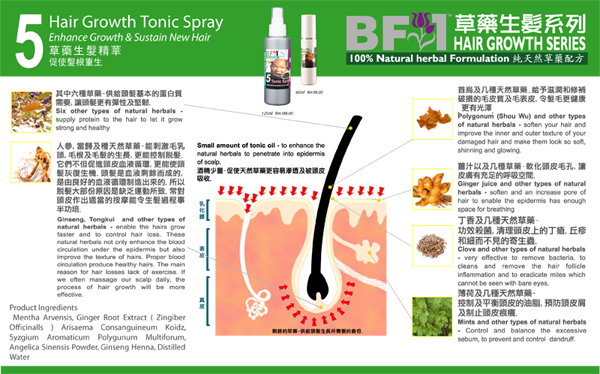 Product Ingredients
Mentha Arvensis, Ginger Root Extract ( Zingiber Officinalls ) Arisaema Consanguineum Koidz, Syzgium Aromaticum Polygunum Multiforum, Angelica Sinensis Powder, Ginseng Henna, Distilled Water.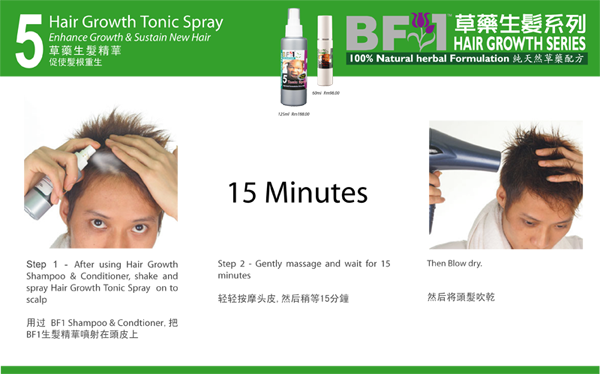 Use Direction :
Step 1 – After using Hair Growth Shampoo & Conditioner, shake and spray Hair Growth Tonic Spray  on to scalp. 用过 BF1 Shampoo & Conditioner, 把BF1ç"Ÿé«®ç²¾è¯å™´å°"åœ¨é ­çš®ä¸Š.
Step 2 – Gently massage and wait for 15 minutes. 轻轻按摩头皮,然后稍等15分鐘.
Step 3 – Then Blow dry. ç"¶åŽå°†é ­é«®å¹ä¹¾.