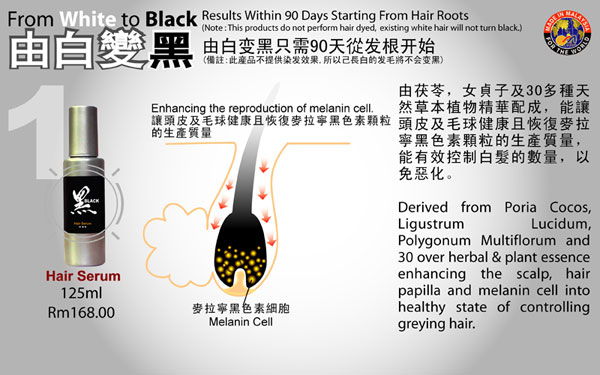 Black Hair Serum
125ml | RM168.00 | USD$53.76

Derived from Poria Cocos, Ligustrum Lucidum, Polygonum Multiflorum and 30 over herbal & plant essence enhancing the scalp, hair papilla and melanin cell into healthy state of controlling graying hair.
由茯苓,女貞子及30多種天ç"¶è‰æœ¬æ¤ç‰©ç²¾è¯é…æˆï¼Œèƒ½è®"é ­çš®åŠæ¯›çƒå¥åº·ä¸"恢復麥拉寧é»'è‰²ç´ é¡†ç²'çš"ç"Ÿç"¢è³ªé‡ï¼Œèƒ½æœ‰æ•ˆæŽ§åˆ¶ç™½é«®çš"數量,以免惡化ã€'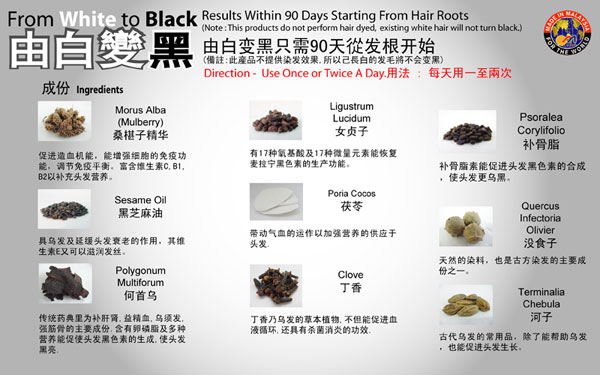 Ingredients : Morus Alba Extract, Rhus Glabra Extract, Polygonum Multiforum Extract, Sesamun Indicum Extract, Eugina Caryophyllata Extract, Distilled Water.
Direction – Use Once or Twice A Day.  用法 : 每天用一至兩次
Step 1 – Before hair wash, Spray Black Hair Serum directly to scalp & massage for 5 minutes.
还未洗发前,先將 Black Hair Serum 噴在头皮上,輕輕按摩5分钟.