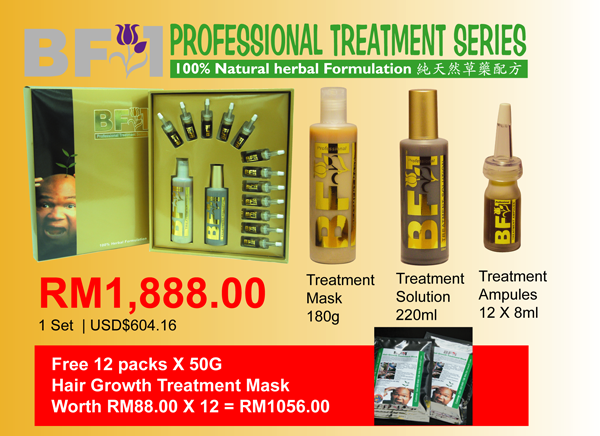 Professional Hair Growth Treatment Set
– RM1,888.00
Results Within 7 days Money Back Guarantee
1no Hair Growth Treatment Mask 180g
1no Hair Growth Treatment Solution 220ml
1no Hair Growth Treatment Ampules 12nos X 8ml
Set Promotion Price : RM1,888.00
+ Free 12 packs 50g Hair Growth Treatment Mask RM88.00 X 12 = RM1056.00
( Promotion Valid Before 31st December 2009 )
Many of us thought that after we suffered hair losses, we will become bald headed and the hair will not grow again. Although hair losses happened, but the roots of the hair are still alive, therefore the roots of those bald headed people are still alive. A dead man's s hairs are still growing temporary. So, man who are alive means the root of their hairs are still alive.
Question 1 : Will new hair grow from sealed scalp pores?
Answer 1 : Yes, it's a matter of time and duration of treatment. The balder the hair, the longer time and period of treatment required.
Question 2 : Is a prolonged sealed hair root consider alive?
Answer 2 : Yes, the vitality of hair root is extremely strong. A sealed or blocked hair root may rejuvenate with a renewed supply of nutrients and air, just as our body's healing power.
有很多人都认为一旦头发掉了以后就变秃头不能再生.事实上头发是掉了,但å'æ ¹å¹¶æ²¡æ­»åŽ»,即使秃头çš"人å'æ ¹ä¾ç"¶æ˜¯æ´»çš".就算生命到终结的时候,毛发仍然得以暂时生长.所以在活着的人体上,å'æ ¹æ˜¯ä»ç"¶ç"Ÿå­˜çš".
问题 1 : 毛孔关闭的头皮还会生发吗?
答案 1 : 会,只是时间及疗程的长短.头发越是光秃,时间及疗程也越长.
问题2 : 关闭已久çš"å'æ ¹è¿˜ä¼šæœ‰ç"Ÿå'½åŠ›å—?
答案2 : 会的,å'æ ¹çš"ç"Ÿå'½åŠ›å¾ˆå¼º,关闭或被阻塞çš"å'æ ¹ä¼šå› ä¸ºå†æ¬¡èŽ·å¾—è¥å…»å'Œç©ºæ°"而从新ç"Ÿé•¿,æ­£å¦'æˆ'们人ä½"会自ç"¶æ"ˆåˆä¼¤å£ä¸€æ ·.